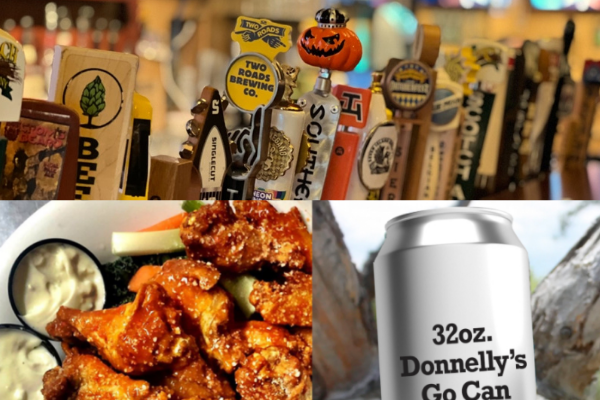 Appetizers:
NFL Pretzel – $10.99
Soft and Chewy Pretzel.  Served with two kinds of mustard, one spicy and one sweet.
Entrees:
Mikes Smoked Wings – $15.99
10 Wings, smoked, finished on the grill, and tossed in a Cajun honey butter sauce.  Served with celery and blue cheese.
Beef On Weck – $14.99
Thinly sliced roast beef dipped in au jus on a toasted Kemmelweck bun.  Served with a side of au jus, horseradish sauce and Donnelly's house-made potato chips.
Grilled Chicken GYRO – $14.99
Grilled sliced garlic pepper seasoned chicken breast folded in a toasted pita with crumbled feta cheese, sliced tomato, chopped Romaine and sliced cucumber.  Served with a side of house-made Tzatziki and Donnelly's house potato chips.
Bacon Jam Burger – $15.99
House half-pound burger topped with a balsamic onion jam, bacon and Gruyere cheese on a toasted pretzel roll with lettuce and tomato. Served with tater tots.
Chicken and Waffles – $15.99
Perfectly seasoned and crispy fried chicken breast on top of a fluffy and tender waffle.  Served with Maple syrup.
Soups:  Chicken & Pasta or  Cheddar Broccoli
$5 "I Drink NY Pint – Naked Dove "Nice or Naughty" – $5/Pint
***CAN FUN*** $8.00/can  Other Half:  Canandank and ALL Citra Everything
DONNELLYS WILL HAVE THE WORLD CUP GAMES ON LOUD AND PROUD GO TEAM U.S.A
https://donnellysph.com/wp-content/uploads/2021/02/Untitled-design.png
400
600
Scott Donnelly
https://donnellysph.com/wp-content/uploads/2021/02/WhiteDonnellys-300x150.png
Scott Donnelly
2022-04-29 12:59:14
2022-12-03 01:31:32
⚾ Lunch/Dinner Specials This Week ⚾ Monday – Sunday – We Open at 11am (noon Sunday) 🎹