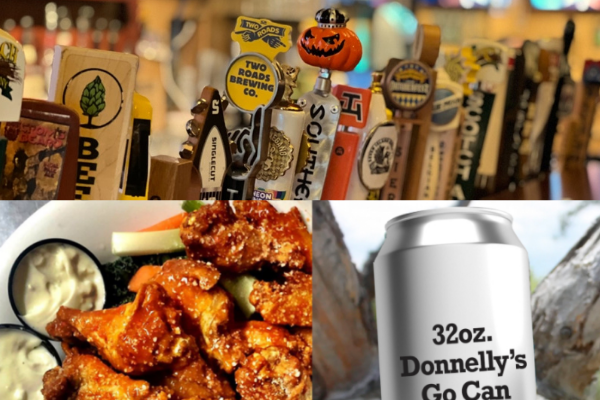 Appetizer Special:
Chicken Cordon Blue Balls – $12.99
Ground chicken, swiss cheese, and ham mixed together, rolled in panko breading and deep fried. Garnished with scallions and served with a swiss cheese cream sauce.
Beef on Weck – $14.99
Thinly sliced roast beef dipped in au jus on a toasted Kemmelweck bun.  Served with a side of au jus, horseradish sauce and Donnelly's house-made potato chips.
Fish Tacos – $15.49 / $17.99
2 or 3 Fried Cod Tacos with Monterey jack cheese, pineapple mango salsa, lime crema served in house-made tortilla shells.  Served with Nacho chips.
Deli Chicken Croissant – $13.99
Deli style chicken served on a croissant with crisp lettuce, tomato, avocado mayo, pickled red onion and provolone cheese.  Served with Donnelly's house-made potato chips.
Ragin Cajun Burger – $15.99
Our house burger, Cajun seasoned and served with pepper jack cheese, fresh jalapenos, drizzled with medium wing sauce on pretzel roll.  Served with Cajun curly fries.
Cheese BBQ Pulled Pork Sandwich – $14.99
Bourbon BBQ pulled pork with melted cheese, topped with a crunchy pickled slaw and served on toasted roll.  Served with onion rings.
Soup:  Cup – $3.99  Bowl – $5.99 – MELTING POT GUMBO  OR   ANDOUILLE CORN CHOWDER
$5 "I Drink NY Pint" ROHRBACHS RAZZLE DAZZLE – $5 a Pint
**The Lemonade**  – $6.25/glass  Freshly squeezed lemonade with Smirnoff Citrus vodka.  Welcome to summer.
*Mimosa Popsicles* $8.25/glass  Glass of Cupcake Prosecco with your choice of a Wild berry, Mango or Pomegranate Passion Fruit popsicle.
*White Zin Sangria* $6.25/glass  White Zinfandel wine, cranberry and sparkling fruit juices.
https://donnellysph.com/wp-content/uploads/2021/02/Untitled-design.png
400
600
Scott Donnelly
https://donnellysph.com/wp-content/uploads/2021/02/WhiteDonnellys-300x150.png
Scott Donnelly
2022-04-29 12:59:14
2022-08-09 14:56:13
⚾ Lunch/Dinner Specials This Week ⚾ Monday – Sunday – We Open at 11am (noon Sunday) 🎹