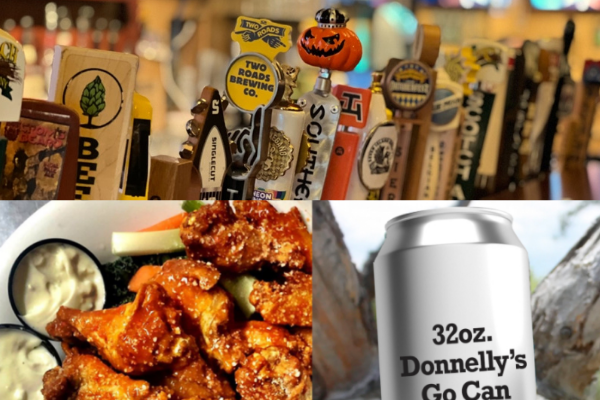 🍯  Soup:  Cup – $3.99  Bowl – $5.99 – Tomato Mushroom Honey  &  Italian Wedding Soup
🍺 $5 "I Drink NY Pint" 🍺 Rohrbach Brewing Different Animal IPA $5 Pints 🍺
 🍔  Mango Habanero BBQ Wings – $14.99
Ten chicken wings tossed in a house-made fresh mango/habanero BBQ sauce.  Served with celery and blue cheese.
🥝  Mexi-Mahi Salad – $17.99
Grilled eight ounce Mahi Mahi over mixed greens with fresh jalapeno, cherry tomatoes, Monterey Jack and cheddar cheeses, grilled corn, black beans, a fresh house-made mango salsa and a drizzle of lime/cilantro crema.  Served with your choice of dressing.
🌰  Cadillac Steak Sandwich – $15.99
Grilled steak tenderloin medallions on a toasted Bomber roll with balsamic caramelized onions and brie cheese spread.  Served with fries and a side of garlic mayo.
🌼  The New Hoosier – $12.99
Panko crusted crispy flash fried pork tenderloin cutlet on a toasted roll with garlic mayo, Provolone cheese, chopped lettuce and house-made jalapeño bread and butter pickles.  Served with Donnelly's house-made potato chips.
🥨  Steak And Frites – $15.99
Ten Ounce grilled sliced sirloin steak served over French fries, drizzled with a house-made chimichurri sauce.
https://donnellysph.com/wp-content/uploads/2021/02/Untitled-design.png
400
600
Scott Donnelly
https://donnellysph.com/wp-content/uploads/2021/02/WhiteDonnellys-300x150.png
Scott Donnelly
2021-02-14 07:49:27
2021-12-02 12:53:26
⚾ Lunch/Dinner Specials This Week ⚾ Wednesday – Sunday – We Open at 11am (noon Sunday) 🎹