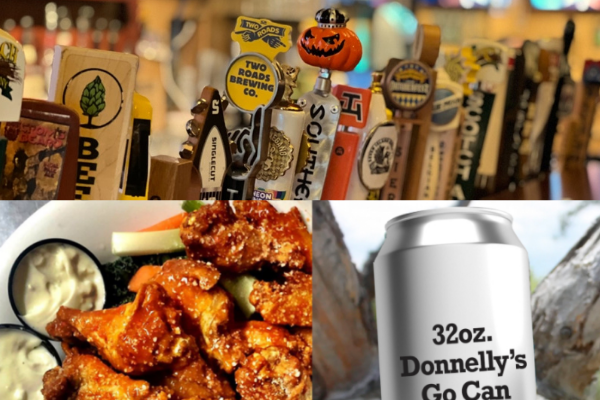 🍯  Soup:  Cup – $3.99  Bowl – $5.99 – Tomato Sausage Ravioli   &   Potato Cheddar   &   French Onion Soup (crock only – $5.49)
🍺 $5 "I Drink NY Pint" 🍺 Upstate 20 Plato DDH Mosaic + Cryo Pop IPA – 10oz.    $5 a Glass  🍺
🍷 Cranberry Vanilla Holiday Sangria – Cranberry juice, Smirnoff vanilla vodka, cranberry simple syrup, blueberry juice, white and blush wines, sparkling fruit juices and orange juice.  $6.00
🚨  Fish Fry – $12.99
Panko breaded flash-fried haddock served with French fries, Cole slaw, lemon and tartar sauce.  Try it Cajun seasoned.  Broiled with white wine – $12.99
🌌  Fish Sandwich – $10.99
Panko breaded fish on a toasted roll.  Served with French fries, Cole slaw, lemon and tartar sauce.
🏳‍🌈  Appetizer:  Buffalo Chicken Balls – $10.99
Grilled chopped marinated chicken with Buffalo wing sauce, crumbled and cheddar cheeses, Panko breaded and flash fries.  Served with blue cheese and celery.
🌄  Winter BBQ Plate – $17.99
Two flash fried pork drums tossed in house BBQ sauce and grilled served with a link of grilled Andouille sausage, freshly baked cornbread muffin and sweet potato tater tots.
🎨  Proscuitto Chicken Parm Bomber – $15.99
Buttermilk marinated chicken cutlet, Panko breaded and flash fried, on a toasted Bomber roll with Provolone cheese, fresh mozzarella, thinly sliced Proscuitto and house marinara.  Served with fries.
🏀  Flank Steak Quesadilla – $15.99
Grilled sliced seasoned flank steak, chopped, in a flour tortilla with Monterey Jack and cheddar cheeses, black beans, fresh jalapeno, scallion, tomato and grilled corn.  Served with a side of salsa, sour cream and guacamole.
🥤  Crispy Breaded Chicken Wings – $14.99
Ten wings you choice of plain lemon pepper or tossed in a house-made Sweet Heat wing sauce.  Served with celery and blue cheese.
https://donnellysph.com/wp-content/uploads/2021/02/Untitled-design.png
400
600
Scott Donnelly
https://donnellysph.com/wp-content/uploads/2021/02/WhiteDonnellys-300x150.png
Scott Donnelly
2021-02-14 07:49:27
2022-01-21 17:54:44
⚾ Lunch/Dinner Specials This Week ⚾ Wednesday – Sunday – We Open at 11am (noon Sunday) 🎹