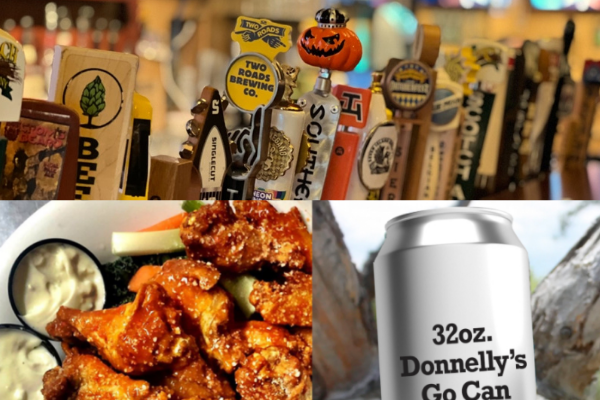 Soup:  Cup – $3.99  Bowl – $5.99 –  Cream of Mushroom     &     Beef Minestrone 
$5 "I Drink NY Pint"  3HB Tiny Kind– $5 a Pint
 **Sunshine Sangria**  – $6.25/glass  Blueberry and Peach vodka, Sparkling fruit juices, white and blush wines and pink grapefruit juice.
**The Lemonade**  – $6.25/glass  Freshly squeezed lemonade with Smirnoff Citrus vodka.  Welcome to summer.
Grilled Chicken GYRO  – $14.99
Grilled sliced garlic pepper seasoned chicken breast folded in a toasted pita with crumbled feta cheese, sliced tomato, chopped Romaine and sliced cucumber.  Served with a side of house-made Tzatziki and Donnelly's house potato chips.
Beef On Weck – $13.99
Thinly sliced roast beef dipped in au jus on a toasted Kemmelweck bun.  Served with a side of au jus, horseradish sauce and Donnelly's house-made potato chips.
Bacon Jam Burger  – $15.99
House half-pound burger topped with a balsamic onion jam, bacon and smoked Gouda cheese on a toasted pretzel roll with lettuce and tomato. Served with Donnelly's house-made potato chips.
Tortellini/Grilled Mahi Caesar Salad –  $17.99
Grilled lightly seasoned eight ounce Mahi Mahi over Romaine tossed with sliced radish, cheese tortellini, cherry tomatoes, fresh mushrooms and croutons in a house lemon zested creamy Caesar dressing.  Garnished with Asiago cheese.
  Surf 'n Turf Calif. Burrito Grande –  $16.99
Grilled shrimp and chopped grilled filet of sirloin in a flour tortilla wrap with black beans, fries, grilled corn and Monterey Jack and cheddar cheeses.  Topped with nacho cheese sauce, a lime crema drizzle and a fresh grilled pineapple salsa.  Served with nacho chips and guacamole.
https://donnellysph.com/wp-content/uploads/2021/02/Untitled-design.png
400
600
Scott Donnelly
https://donnellysph.com/wp-content/uploads/2021/02/WhiteDonnellys-300x150.png
Scott Donnelly
2022-04-29 12:59:14
2022-05-23 14:25:58
⚾ Lunch/Dinner Specials This Week ⚾ Monday – Sunday – We Open at 11am (noon Sunday) 🎹