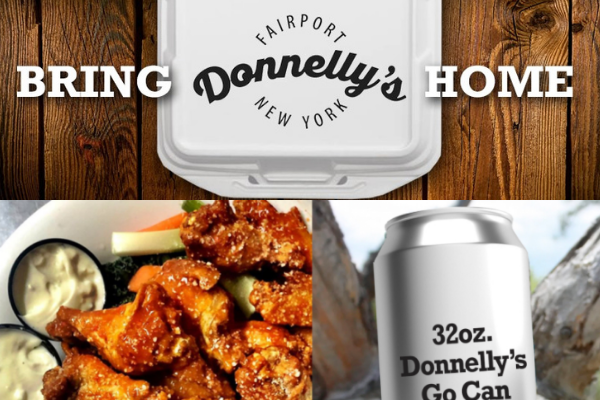 🧶 Soup:  Beef and Navy Bean  & Shrimp and Clam Corn Chowder  Cup – $3.99  Bowl – $5.99
🥨  Appetizer:  Loaded Nacho Fries – $9.99
A bowl of french fries topped with house-made nacho cheese sauce, black beans, fresh jalapeno, taco meat, diced tomato and scallion.  Served with salsa and sour cream.
🧃 Tortellini Chicken Caesar Salad – $15.99
Grilled chicken tossed with Romaine, sliced radish, cheese tortellini, cherry tomatoes, fresh mushrooms and house-made chunky garlic parmesan cracked pepper croutons in our house creamy Caesar dressing.  Garnished with Asiago cheese.
🍅 BBQ Brisket Grilled Cheese Sandwich – $14.99
Half-pound of thinly sliced beef brisket with a drizzle of house BBQ on toasted white bread with cheddar and Provolone cheeses.  Served with a crunchy pickle super-slaw and fries.
🍡 Bacon Blue Cheese Burger – $14.99
House half-pound burger with double bacon and a crumbled blue cheese/bacon/jalapeno cream cheese spread on a toasted roll with lettuce and tomato.  Served with Donnelly's cheesy garlic smashed potatoes.
🥓 BBQ Plate – $17.99
A half-rack of grilled ribs, chunk of Andouille sausage and Donnelly's house BBQ pulled pork served with BBQ bacon baked beans, mac salad, a slice of white bread and a slider roll.
https://donnellysph.com/wp-content/uploads/2021/02/Copy-of-Donnelly-Bring-Home.png
400
600
Scott Donnelly
https://donnellysph.com/wp-content/uploads/2021/02/WhiteDonnellys-300x150.png
Scott Donnelly
2021-02-14 07:49:27
2021-06-20 15:04:44
⚾ Specials for InDoor Dining ⚾ Sunday June 20th – We Are OPEN Noon-5pm 🎹