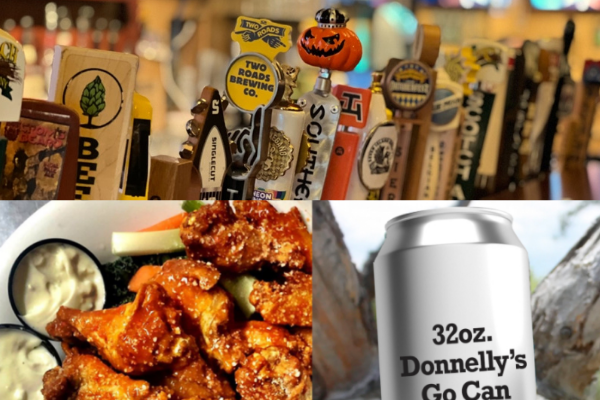 Appetizer:
NFL Pretzel – $10.99
Soft and chewy pretzel. Served with two kinds of mustard: one spicy, one sweet.
Entrees:
Not Your Mamas Fried Bologna Sandwich – $13.49
Fried bologna with American cheese and sauteed onions on your choice of grilled bread. Served with House-made Donnelly's Donkey chips (House chips with a side of secret sauce).
Grilled Chicken GYRO – $13.99
Marinated, grilled chicken breast folded in a toasted pita with crumbled feta cheese, sliced tomato, chopped Romaine and sliced cucumber.  Served with a side of house-made Tzatziki and Donnelly's house potato chips.
BBQ BRISKET BURGER – $17.99
BBQ Brisket smothered in BBQ sauce on top of our burger cooked to temp with American cheese served on a pretzel roll with French Fries.
Strawberry Fields Salad – $18.99
Marinated, grilled chicken breast served over field greens with strawberries, pomegranate arils, walnuts, craisins and crumbly blue cheese. Served with a side of apple cider vinaigrette.
Spring Swordfish Salad – $20.99
Grilled swordfish served over romaine lettuce with bacon, feta, tomatoes, mango chunks and drizzled with a mango puree. Served with a side of balsamic vinaigrette.
Soup:  Chicken Alphabet Soup  OR Steak and Potato Soup
$5 "I Drink NY Pint"– GENNY RUBY KOLSCH – $5/Pint
$5 "Pint"- JACKS ABBY LAGER – $5/Pint
***CAN FUN: GREAT BEERS WE CAN ONLY FIND IN CANS***
$5.50/CAN – EL SEGUNDO BREWERY: BROKEN SKULL I.P.A
$6.50/BOTTLE – LINDEMANS : FRAMBOISE
$7.50/CAN – BURLINGTON BEER: PEASANT KING
$8.50/CAN – F.O. CAT – 11 LIVES AND STILL WANDERING I.P.A
$8.50/CAN – F.O. CAT: THAT'S A TERRIBLE IDEA..WHAT TIME?
$7.50/CAN – F.O. CAT – DAZED & CONFUSED TEENAGE KITTENS
$7.50/CAN – F.O. CAT – BEER IN THE STREET IN THE TOWN OF NEW HAVEN
$5.50/CAN – AURORA: LA CREMA CREAM ALE
$4.50/CAN – DALES: PALE ALE
$8.50/CAN ABOMINATION: TERP FOG (N.E. I.P.A-GREAT FLAVOR)
https://donnellysph.com/wp-content/uploads/2021/02/Untitled-design.png
400
600
Scott Donnelly
https://donnellysph.com/wp-content/uploads/2021/02/WhiteDonnellys-300x150.png
Scott Donnelly
2022-04-29 12:59:14
2023-05-25 14:12:54
⚾ Lunch/Dinner Specials This Week ⚾ Monday – Sunday – We Open at 11am (noon Sunday) 🎹