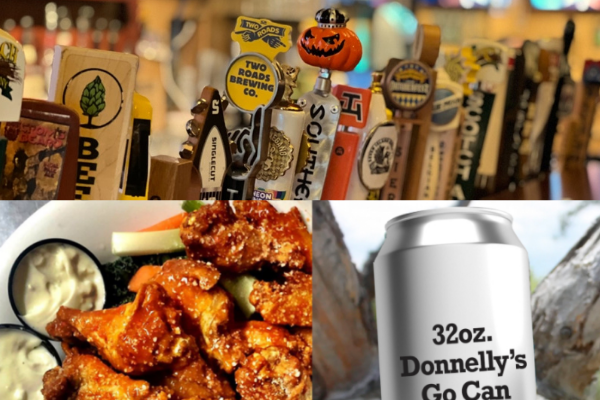 Appetizer:
NFL Pretzel – $10.99
Soft and chewy pretzel. Served with two kinds of mustard: one spicy, one sweet.
Spinach and Artichoke Dip – $13.99
Creamy spinach and artichoke dip served with Nacho chips.
Small Lunch Special – $9.99
Available 11am – 3pm
A small house or Caesar salad with a cup of soup, your choice.
Entrees:
Rinny's Chicken – $15.99
Marinated grilled chicken breast topped with melted Havarti cheese, bacon, roasted red peppers and honey mustard dressing on a toasted hard roll. Served with tater tots.
Meatball Bomber – $16.99
Italian seasoned meatballs with melted provolone cheese and marinara served on a bomber roll. Served with tater tots.
Big Dilla Salad – $17.99
Ground beef, red onion, cheddar cheese, pickles, and tomatoes all over a bed of romaine lettuce. Served with a side of 1000 Island dressing.
Beef Teriyaki – $16.99
Seasoned and sauteed beef with peppers, mushrooms and onions served over a bed of white rice.
Stuffed Chicken – $18.99
Chicken pounded thin, marinated in buttermilk, stuffed with smoked gouda cheese sauce and bacon. Rolled in breadcrumbs, deep fried and covered with a Swiss cheese sauce. Served with white rice and steamed vegetables.
SOUP
New England Clam ChowderOR  Chicken NoodleOR  Vegetable Minestrone
$5/PINT – Rohrbachs Cumbermelon Kolsch– $5/PINT
***CAN FUN: GREAT BEERS WE CAN ONLY FIND IN CANS***
$5.00/CAN – IMPRINT: VIENNA STYLE LAGER
$8.50/CAN – LITTLE WILLOW: BEST FRIENDS(DDHIPA)
$6.50/CAN – Neue Methode: in the Shrine (N.E.I.P.A)
$6.50/BOTTLE – LINDEMANS : FRAMBOISE
$8.50/CAN – ABOMINATION BREWING: JERSEY DEVIL(DDHIPA)
$7.50/CAN – F.O. CAT – 3RD GENERATION WITH  BROGHAM TRIM IPA
$7.75/CAN – 450 NORTH: SLUSHY XL SOUR(GREAT SOUR)
$4.50/CAN – DALES: PALE ALE
$7.75/CAN – BRIX CITY: SEXUAL JAMS(DOUBLE I.P.A)
$8.50/CAN – ABOMINATION:WANDERING INTO THE FOG(GREEN)
***SOUR TIMES! 6 DIFFERENT FLAVORS FROM 450 NORTH***
BANANA CHOCO TACO,CONFETTI CANDY,TACO PARTY,RABBIT VS HUNTER, CRAZY BERRY AND TROPICS.
$8.00/CAN OR PICK 4 FOR $30.00
https://donnellysph.com/wp-content/uploads/2021/02/Untitled-design.png
400
600
Scott Donnelly
https://donnellysph.com/wp-content/uploads/2021/02/WhiteDonnellys-300x150.png
Scott Donnelly
2022-04-29 12:59:14
2023-11-27 14:41:58
⚾ Lunch/Dinner Specials This Week ⚾ Monday – Sunday – We Open at 11am (noon Sunday) 🎹