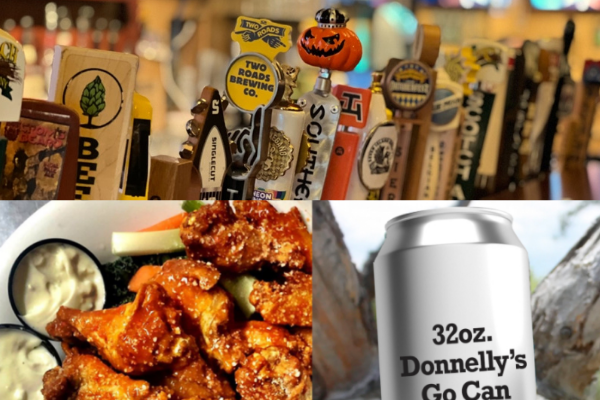 Soup:  Cup – $3.99  Bowl – $5.99 –  Chicken Flourentine and Lobster Chowder
$5 "I Drink NY Pint" Sloop Brewing Sauer Peach Berlinner Weisse – $5 a Pint
**The Lemonade**  – $6.25/glass  Freshly squeezed lemonade with Smirnoff Citrus vodka.  Welcome to summer.
Crispy Breaded Chicken Wings – $14.99  Ten wings with your choice of plain lemon pepper or tossed in a house-made Sweet Heat wing sauce.  Served with celery and blue cheese.
Chicken Pesto Bomber – $16.99  Flash fried buttermilk marinated Panko breaded chicken breast on a toasted bombe roll with basil pesto, Proscuitto and fresh mozzarella cheese.  Served with Donnelly's house-made potato chips.
The Mac 'Dilla – $15.99  House half-pound burger, grilled and chopped, in a flour tortilla with American and cheddar cheeses, diced pickles, Special Sauce (*shhhh… it's Thousand Island), diced red onion and sesame seeds.  Served with fries and a side of Special Sauce.
Chicken Thai Noodle Bowl – $14.99  Grilled sliced chicken breast over shredded carrots, celery, broccoli, bell peppers and angel hair pasta tossed in our house-made Thai peanut sauce.  Garnished with scallion, cilantro, a wedge of lime and chopped roasted peanuts.
Beef On Weck – $13.99  Thinly sliced roast beef dipped in au jus on a toasted Kemmelweck bun.  Served with a side of au jus, horseradish sauce and Donnelly's house-made potato chips.
https://donnellysph.com/wp-content/uploads/2021/02/Untitled-design.png
400
600
Scott Donnelly
https://donnellysph.com/wp-content/uploads/2021/02/WhiteDonnellys-300x150.png
Scott Donnelly
2022-04-29 12:59:14
2022-06-25 21:33:51
⚾ Lunch/Dinner Specials This Week ⚾ Monday – Sunday – We Open at 11am (noon Sunday) 🎹