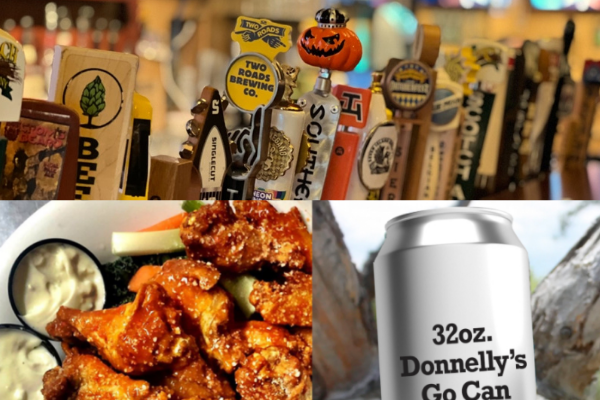 Appetizer:
NFL Pretzel – $10.99
Soft and chewy pretzel. Served with two kinds of mustard: one spicy, one sweet.
Small Lunch Special – $9.99 Available 11am – 3pm
A small house or Caesar salad with a cup of soup, your choice.
Entrees:
Pizza & Wings – $16.99
Marinara, mozzarella cheese, and basil baked perfectly on a cauliflower crust.  Served with 5 wings toss in your choice of wing sauce.
Not Your Mamas Fried Bologna Sandwich – $13.49
Fried bologna with American cheese and sauteed onions on your choice of grilled bread. Served with House-made Donnelly's chips.
Stacker Wrap – $14.99
Deli sliced turkey, tomato, red onions, coleslaw, Swiss cheese, jalapeno bread & butter pickles, and thousand island dressing all wrapped up in a flour tortilla. Served with house-made Donnelly's chips.
Bacon Jam Burger – $17.99
House C.A.B burger topped with bacon, caramelized balsamic onion jam, Swiss cheese, lettuce and tomato on a pretzel roll. Served with Fries.
Portobello Mushroom Sandwich – $14.99
Grilled marinated portobello mushroom topped with roasted red peppers and provolone cheese on a toasted roll.  Served with Donnelly's house-made potato chips.
Shrimp Pasta – $17.99
6 Large shrimp sauteed with roasted red peppers and artichoke hearts in a house made garlic, basil marinara over linguine. Garnished with Asiago cheese.
SOUPS: Chicken and Pasta OR Seafood Bisque
$5/PINT – 3HB Seabreeze Ale – $5/PINT
***CAN FUN: GREAT BEERS WE CAN ONLY FIND IN CANS***
$6.50/BOTTLE – LINDEMANS : FRAMBOISE
$8.50/CAN – ABOMINATION BREWING: JERSEY DEVIL(DDHIPA)
$7.75/CAN – TOX&ABOMINATION– WANDERING INTO THE FROG
$7.50/CAN – F.O. CAT – BEER IN THE STREET IN THE TOWN OF NEW HAVEN
$5.50/CAN – NEVERDEAD: PAPER CANOE (DRY-HOPPED KOLSCH)
$4.50/CAN – DALES: PALE ALE
$7.00/CAN – HOOF HEARTED –$$$60 DOLLAR NACHOES
$8.50/CAN – LITTLE HOUSE: OKAY WERE KINDA CUTE
$7.50/CAN – DuClaw: S'MORES STOUT
$5.00/CAN – STONE: ARROGANT BASTARD I.P.A
$5.50/CAN – DECADENT ALES: MISFITS LAGER-
(LIMITED EDITION ROCK AND ROLL CAN)
https://donnellysph.com/wp-content/uploads/2021/02/Untitled-design.png
400
600
Scott Donnelly
https://donnellysph.com/wp-content/uploads/2021/02/WhiteDonnellys-300x150.png
Scott Donnelly
2022-04-29 12:59:14
2023-09-23 13:26:42
⚾ Lunch/Dinner Specials This Week ⚾ Monday – Sunday – We Open at 11am (noon Sunday) 🎹